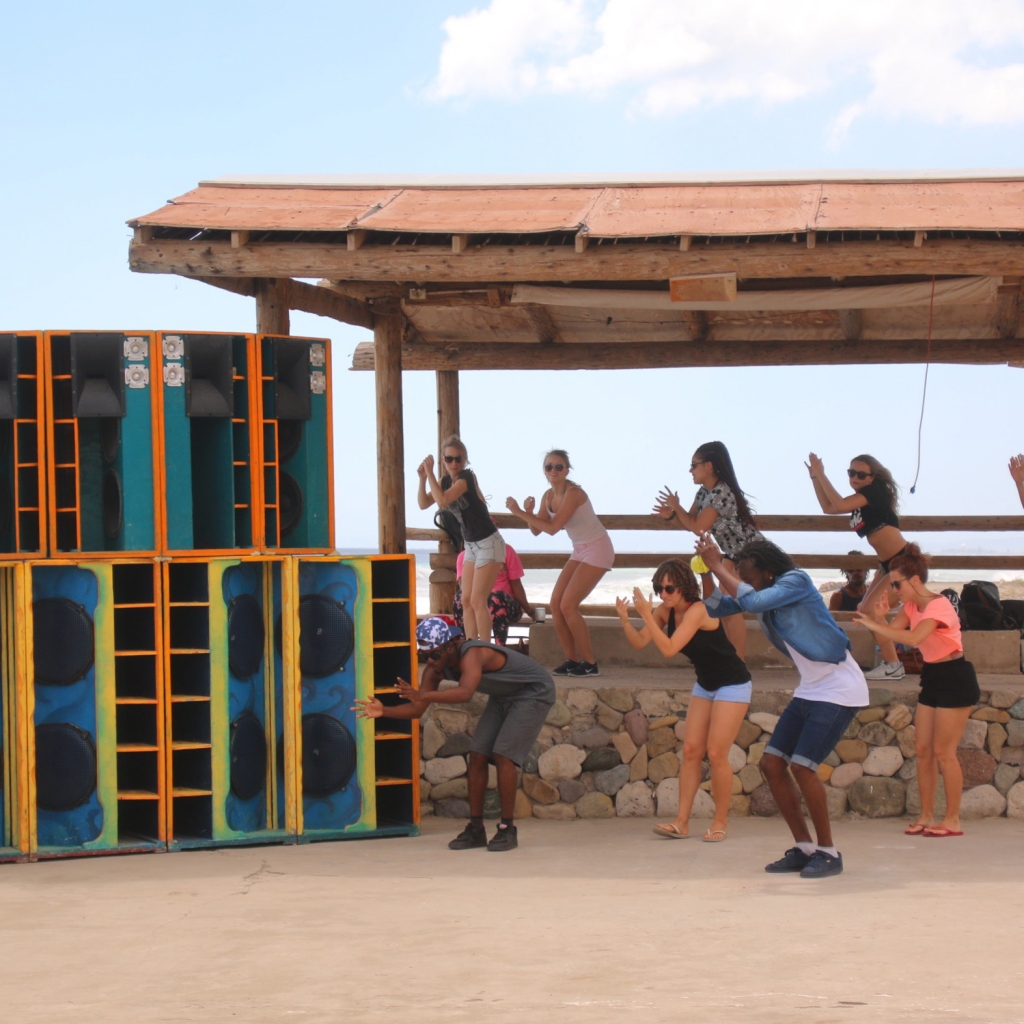 Top Up Jamaica Trip
We organise dancehall trips to Jamaica twice a year since 2014. Join us on an unforgettable journey to the roots of Jamaican popular culture. The trips last two weeks and include dance classes in dance studios and Kingston's streets, nightly dancehall parties, cultural excursions and recreational trips to Jamaica's beautiful waterfalls, lagoons and beaches.
Next trip: Spring 2018 – March 14-28
Autumn 2018
For more information or to register please fill out the section below
Europe Tours by Jamaican dancers
Presented by TopUp Production and MINCE e.V.
Upcoming tours:
February – March 2018, Zidan Xqlusiv
March – April 2018, Shelly Xpressionz
May – June 2018, Rollx Hectic Dymondz
You can book the dancers for workshops, shows, judging work and lectures.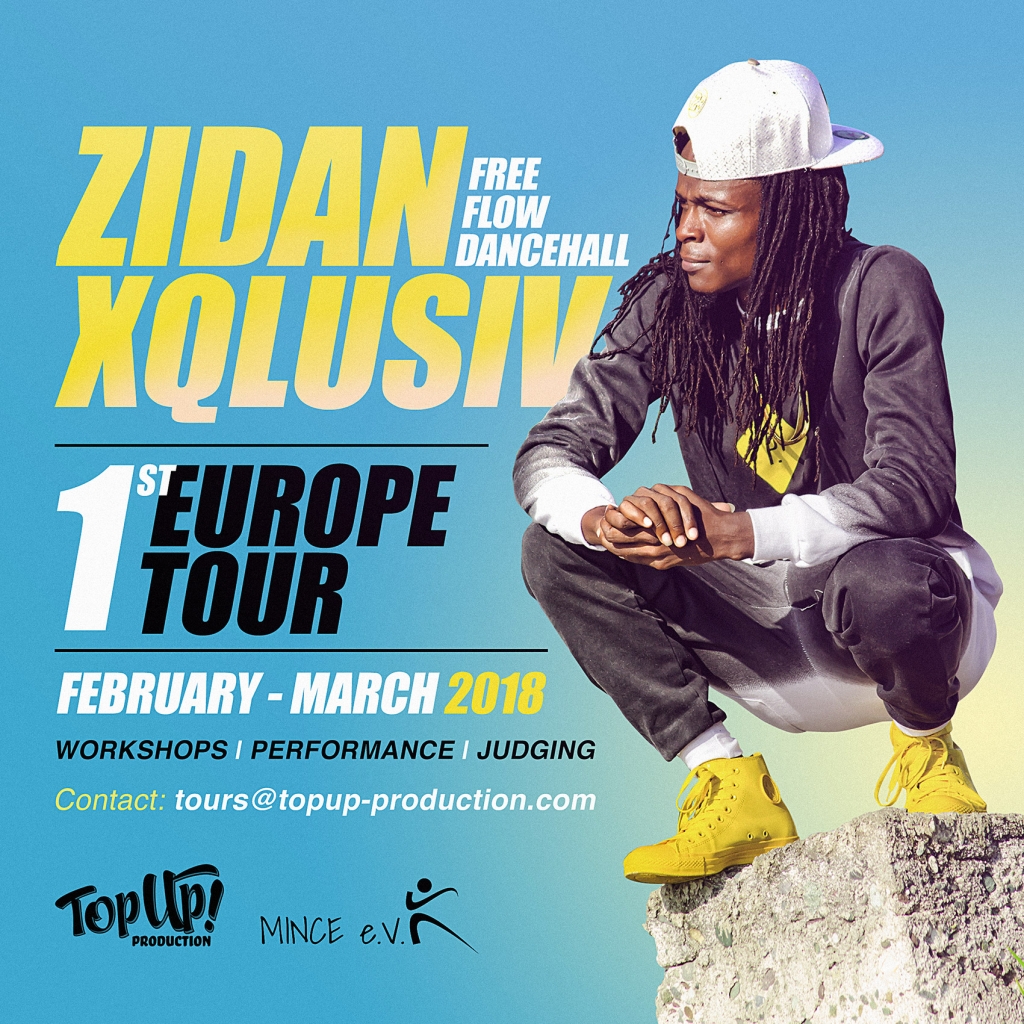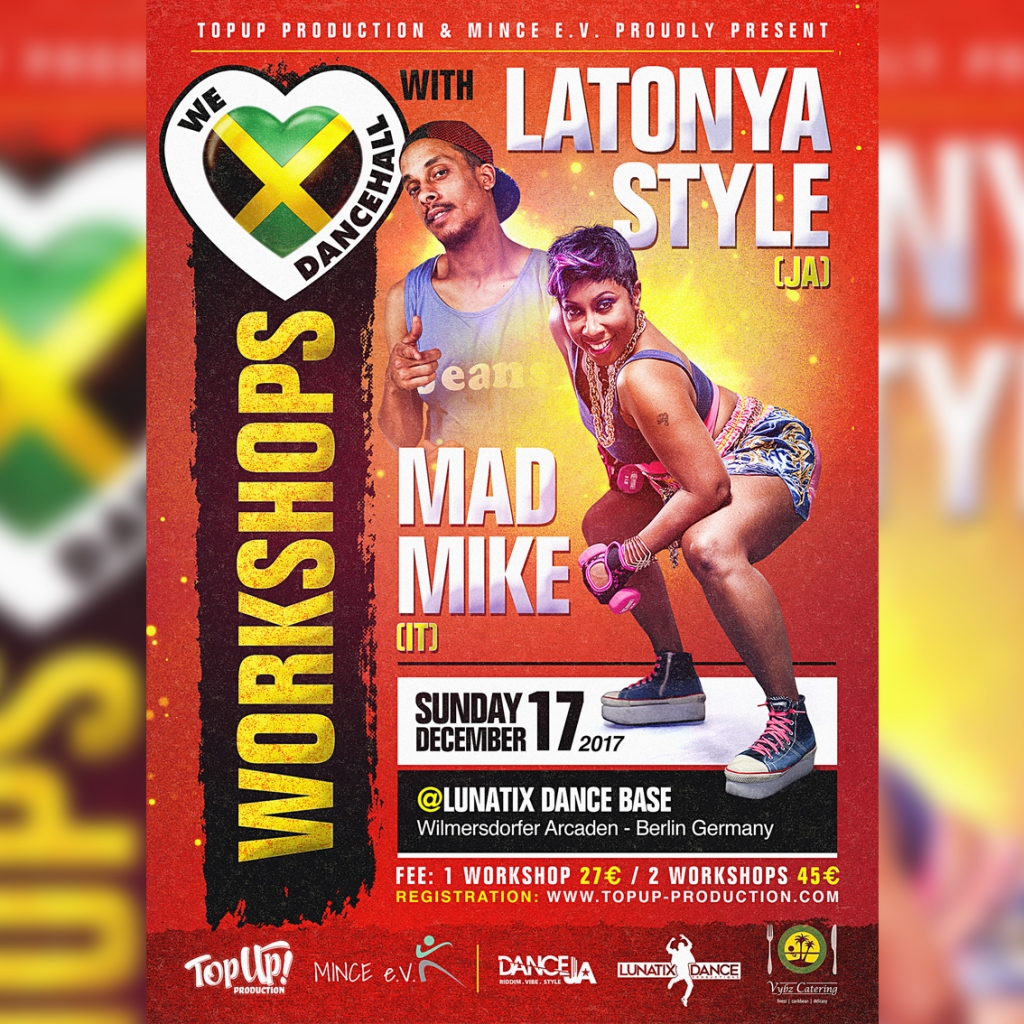 Top Up Dancehall Workshop
Workshop with Latonya Style (JA) & Mad Mike (IT)
Date: December 17th 2017
Time:
12:00 – 1:30pm Latonya Style
1:30 – 2:30pm Jamaican Food Break
2:30 – 4:00pm Mad Mike
Location: Lunatix Dance Base, Wilmersdorfer Arcaden Untergeschoss, Wilmersdorfer Straße 46, 10627 Berlin
Fee:
1 Workshop 27€
2 Workshops 45€
Limited spots avilable!
To register for the workshop please fill out the section below
Top Up Dancehall Camp 2017
W.I.L.D. (Why I Love Dancehall) edition
Date: April 14-17, 2017
Location: TiB, Columbiadamm 111, 10965 Berlin
Line up
Latonya Style (JA)
Sri Lanka (JA)
Kool Ravers (JA)
Craig Black Eagles (JA)
Famous Dancer (JA)
Joan Gringesho (FR)
Sir Ledgen (US)
Marthe Vangeel (NL)
Rafa Redvolcon (ES)
Melpo Mellz (SWE)
Isaac M.I.K. (GER)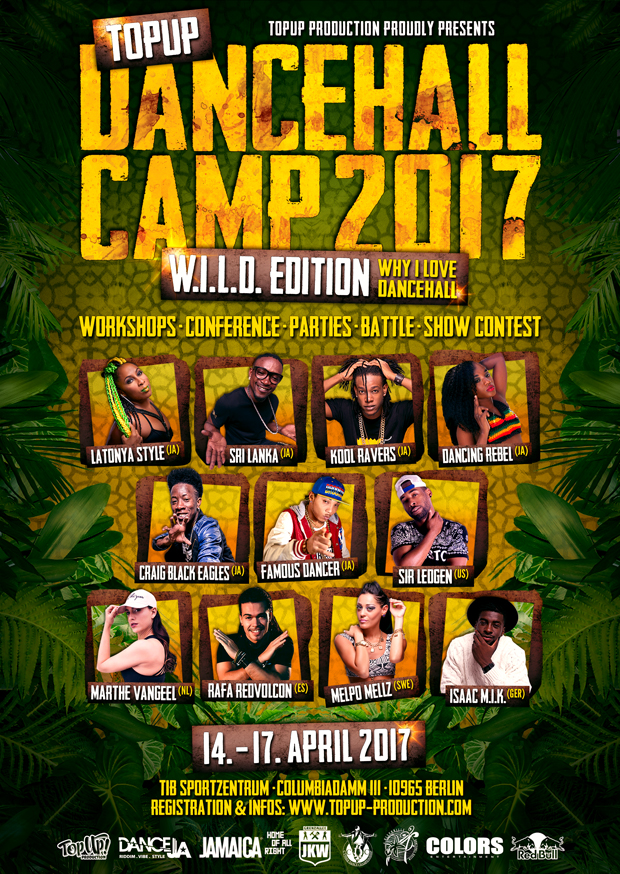 Top Up Dancehall Battles 2017 - 2vs2
Date: April 15, 2017
Location: Cypher Dance Championship
Festsaal Kreuzberg, Am Flutgraben 2, 12435 Berlin
Judges: Dancing Rebel (JA), Sir Ledgen (US), Melpo Mellz (SWE)
Prices: Price money, trophies and TopUp goodies
Top Up Dancehall Show Contest 2017
Date:
First Round April 14, 2017
Final Round April 15, 2017
Location First Round: TopUp Dancehall Camp
TiB, Columbiadamm 111, 10965 Berlin
Location Final Round: Cypher Dance Championship
Festsaal Kreuzberg, Am Flutgraben 2, 12435 Berlin
Preselection by submitting a video of your crew (rehearsal video is sufficient)
Show length: 3 min
Judges: Dancing Rebel (JA), Sir Ledgen (US), Melpo Mellz (SWE)
Prices: Price money of 500€ for the first place, trophies and TopUp goodies